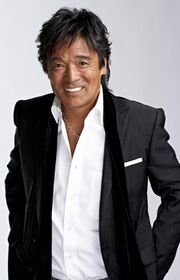 Ai no Memory
(愛のメモリー) is a song by
Shigeru Matsuzaki
(Nangoku Peanuts). The single is released on August 10, 1977. The song is known by its modified lyrics as the announcement song for
Momoiro Clover Z
in their live concerts sung by Matsuzaki himself. The announcement is usually about the venue of their next live concert and the members first heard it there since he is a surprise guest.
愛の甘いなごりに
あなたはまどろむ
天使のようなその微笑みに
時は立ち止まる
窓に朝の光が
やさしくゆれ動き
あなたの髪を
ためらいがちに染めてゆく

美しい人生は 言葉さえ置き忘れ
満ち足りた二人を包むよ
この世に大切なのは
愛し合うことだけと
あなたはおしえてくれる

美しい人生よ かぎりない喜びよ
この胸のときめきをあなたに
二人に死がおとずれて
星になる日が来ても
あなたと離れはしない
Ai no amai nagori ni
Anata wo madoromu
Tenshi wo youna sono hohoemi ni
Toki wa tachidomaru
Mado ni asa no hikari ga
Yasashiku yure ugoki
Anata no kami wo
Tamerai-gachi ni somete yuku

Utsukushi jinsei wa kotoba sae okiwasure
Michitarita futari wo susumu yo
Kono yo ni taisetsu na
Aishiau koto dake to
Anata wa oshiete kureru

Utsukushi jinsei yo kagirinai yorokobi yo
Kono mune no tokimeki wo anata ni
Futari ni shi ga otozurete
Hoshi ni naru hi ga kite mo
Anata to hanare wa shinai
Ad blocker interference detected!
Wikia is a free-to-use site that makes money from advertising. We have a modified experience for viewers using ad blockers

Wikia is not accessible if you've made further modifications. Remove the custom ad blocker rule(s) and the page will load as expected.