Hanseiki Yuutousei
Single by Go Go Nana Ni San Ni Rei
Kanji

半世紀優等生

Release Date

March 25, 2015

Format

Digital

Label
Singles Chronology
Previous

-

Next

-
Hanseiki Yuutousei (半世紀優等生, Half a Century Honor Student) is the debut single of Go Go Nana Ni San Ni Rei (5572320). It was released on March 25, 2015 as digital download.
The single is made in commemoration of the 50th anniversary of Nissin Cisco's biscuit product Coconut Sable.[1]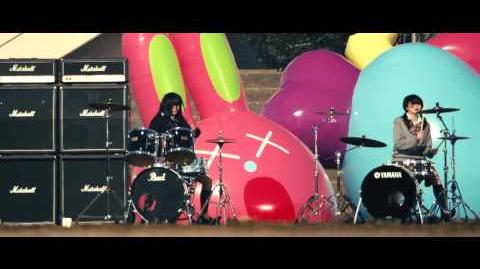 The single expresses their complex which is peculiar to the teenager and desire to self-transformation and reflects Coconut Sable's heart to shake itself from honor student for 50 years.[2] Despite its long history, Coconut Sable had never been known as something that particularly stood out because of its traditional and conservative image.[3]
The music video first was first revealed on March 4, 2015, with the announcement of "mysterious skilled rock band" Go Go Nana Ni San Ni Rei (which was later revealed as Shiritsu Ebisu Chugaku). The song debuted on March 19, 2015 in the surprise performance in Tokyo Shinjuku Station Square of opening event of Nissin Cisco Coconut Sable 50th Anniversary campaign.[1]
Tracklist
Edit
1. Hanseiki Yuutousei (半世紀優等生, Half a Century Honor Student)
Single Information
Edit
Hanseiki Yuutousei

Lyrics:
Composer: KenKen
Arrangement:
Featured Members
Edit
Despite having no bassist, the bass line can be heard in the song. The composer, KenKen is a bassist for the rock band RIZE.
References
Edit
External Links
Edit
Ad blocker interference detected!
Wikia is a free-to-use site that makes money from advertising. We have a modified experience for viewers using ad blockers

Wikia is not accessible if you've made further modifications. Remove the custom ad blocker rule(s) and the page will load as expected.