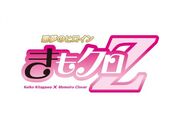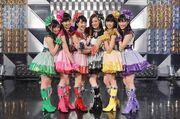 Kimoclo is a temporary idol group with Momoiro Clover Z and actress Kitagawa Keiko. it is for the drama NTV drama Akumu-chan Special in spring 2014
March 4 it was announced the group formation.
Current Members
Edit
Reni Takagi - Purple
Kanako Momota - Red
Momoka Ariyasu - Green
Tamai Shiori - Yellow
Ayaka Sasaki - Pink
Kitagawa Keiko - Black
[2014] Saraba, Itoshiki Kanashimitachi yo
Filmography
Edit
[2014] Akumu-chan Special

[2014] Akumu-chan The Movie
Kitagawa revealed she is thinking about her introduction and said it will be something "silly."
"Kitagawa was asked if there would be any possibility for "Kimoclo" to appear in Momoclo's actual live concert. She answered, "They are the idol group that represents Japan, you know." She then continued, "I would consider it if I become the most popular member. If there is a demand, I would do it, though I'm sure there won't be..."" - TokyoHive
Kitagawa used to preform in the drama Sailor Moon (live-action series)
Kimoclo will perform the drama's theme song "Saraba, Itoshiki Kanashimitachi yo
Ad blocker interference detected!
Wikia is a free-to-use site that makes money from advertising. We have a modified experience for viewers using ad blockers

Wikia is not accessible if you've made further modifications. Remove the custom ad blocker rule(s) and the page will load as expected.