Momoclo Natsu no Bakasawagi WORLD SUMMER DIVE 2013.8.4 Nissan Stadium Taika
i is
the final stop on the Summer Dive 2013 tour. More amusement park than a live concert it was held at Nissan Stadium where Momoiro Clover Z performed their biggest show yet for 60,000. In addition to singing and dancing Momoclo invited several special guests for music specials and sports competitions.
This was the girls next goal after their live at the soon (at that time) to be demolished National Olympic Stadium.
The concert DVD is released January 29, 2014.
Details
Setlist
1. PUSH (with Tomoyasu Hotei)
2. Saraba, Itoshiki Kanashimitachi yo (with Tonoyasu Hotei)
3. Kaso Dystopia
4. DNA Kyoshikyoku
5. Otome Senso
6. Moretsu Uchu Kokyokyoku Dai 7 Gakusho (Mugen no Ai)
7. Tsuki to Gingami Hikosen 
8. Ue o Muite Aruko - Get Down
9. Coco Natsu
10. Wani to Shampoo (with Haruka Minowa)
11. 5 the POWER
12. Moonlight Denetsu
13. Neo STARGATE
14. Soratobu! Ozashiki Ressha
15. Momoiro Taiko Dodonga Setsu
16. Jokyu Monogatari
17. BIONIC CHERRY
18. Pinky Jones
19.Chai Maxx
20. Kimi no Ato
21. Bambino (Tomayasu Hotei)
22. Ikuzu! Kaito Shojo
23. Rodo Sanka
24. Hashire!
25. Momoclo no Nippon Banzai!
Encore:
26. Hai to Diamond
27. Kono Uta
28. Sakura Sakura - Nippon Egao Hyakkei
29. Kuroi Shumatsu
Concert Note
Navigation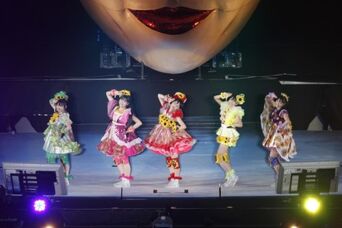 Ad blocker interference detected!
Wikia is a free-to-use site that makes money from advertising. We have a modified experience for viewers using ad blockers

Wikia is not accessible if you've made further modifications. Remove the custom ad blocker rule(s) and the page will load as expected.