NINIFUNI
Directed by

Tetsuya Mariko

Written by

Yasutomo Chikuma

Release Date

June 11, 2011

Production

Moviola

Starring

Masaru Miyazaki
Takashi Yamanaka
Momoiro Clover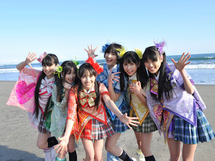 NINIFUNI is an indie short film starring Masaru Miyazaki and Momoiro Clover.[1] The movie was directed by an indie filmmaker Tetsuya Mariko and co-written with fellow indie filmmaker Yasutomo Chikuma. The film was released on June 11, 2011 at the limited screenings in Tokyo Teather Shinjuku.[2] The movie was released nationwide on February 2012.[3]
Spoiler warning!
This article contains plot details about a movie or upcoming episode.
Tanaka, a man lives in the countryside, breaks into a game arcade with his friend Kato, rob the safe and runs away with the store owner's car. After straying on a highway route, he finally ends up a lonesome beach. A few days later, the idol group Momoiro Clover, visits the beach for their music video shoot, and find his car in the bush.
The film takes its inspiration from a real-life case of a young man who kills himself after being involved in a violent robbery.
The music video being worked at in the film is Ikuze! Kaitou Shoujo despite the said song has been released for a year at the time of the filming. The actual music video doesn't take place in a beach either.
The film is released three months after Momoiro Clover changed its name into Momoiro Clover Z, making it the last film to feature Akari Hayami.
References
Edit
Ad blocker interference detected!
Wikia is a free-to-use site that makes money from advertising. We have a modified experience for viewers using ad blockers

Wikia is not accessible if you've made further modifications. Remove the custom ad blocker rule(s) and the page will load as expected.