Towa Narasaki
Kanji

奈良崎とわ

Nickname

Towachan (とわちゃん)

Birthdate

February 21, 2000

Birthplace

Osaka, Japan

Professional Status

Group

Takoyaki Rainbow (2012-2014)

Member Color

■ Red

Epithet

Naniwa no Shaolin Shoujo (浪花の少林少女 , Shaolin Girl from Naniwa)

Occupation

Model

Years Active

2012-present

Associated Acts
Blog
Towa Narasaki (奈良崎とわ) is a model represented by Stardust Promotion. She is a former member of Takoyaki Rainbow and a former member of Stardust Section 3's 3Bjunior. Her official member color was Red.
Nickname: Towachan
Birth date: February 21, 2000
Birthplace: Osaka
Blood type: -
Height: -
Hobby: Reading, Tomato gardening
Specialties: Swimming, playing piano
Associated Acts: Takoyaki Rainbow (2012-2014)
Image Color: Red
Member Notes
Edit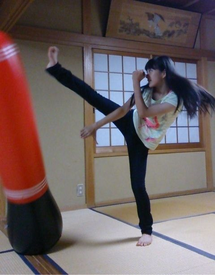 "Fist of heaven and earth 4th form stance! I will give everyone the kick of love! I'm the Shaolin Girl of Naniwa, Towa Narasaki!" — Introduction
(天地拳第四系 構え!みんなに届け 愛の蹴り!浪速の少林少女 奈良崎とわです!)
She was the original leader of Takoyaki Rainbow. After her graduation on June 8, 2014 Hori Kurumi took the title.
She is a practitioner of Shorinji Kempo, a martial arts equivalent to Shaolin Kung Fu. Her gimmicks revolves around this.
She respected Kanako Momota of Momoiro Clover Z and decided to pick the red color because she wanted to be like her senior.[3]
She is scouted by the management instead of passed in an audition. She was 5 at that time.
She refers to herself in the third person.
Biography
Edit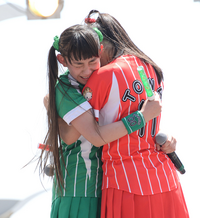 Towa was scouted around 5 when a staff member of Stardust Promotion going on a business trip. She originally wanted to become model and had been engaged in various modeling activities. [4] In 2013, she won the grand prix event of Nakayoshi Magazine's Naka Girl 2013.
She eventually become idol after she asked to do so. At first she turned it down because she can't dance, but then she thought it was fun when she went to a dance lesson.[4]
On March 16, 2014, she announced her graduation because of her academic priority. The graduation took place in their free live event at Osaka Nanko ATC Seaside Stage on June 8, 2014.
Discography Participated in
Edit
Indie Singles
Publications
Edit
[2013.03.01] Nakayoshi
[2013.01.25] Miracle Kawaii! Sashin no Utsurikata & Torikata Master
[2012.12.28] Nakayoshi
[2012.11.29] Shogakukan Mook: Chuugakusei Start Book 2013
[2012.07.14] Girls★Stage Vol.2
[2012.02.28] Girls☆Stage
Unlike the other talents of Stardust Promotion, her height and blood type aren't published on the management's official site.
She has dimples like her red counterparts in Momoiro Clover Z, Kanako Momota.
Normally, a graduated member of 3Bjunior idol groups will continue their activities in 3Bjunior until she hits 18. Towa, however, doesn't take a part on the annual yearbook 3Bjunior Book 2014 ~3Bjunior no Natsuyasumi~.
References
Edit
External Links
Edit